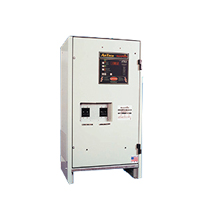 Battery Chargers Coming Soon
Racks and Spill Containment Systems
BAE Batteries Canada is proud to be partnered with EnviroGuard, the global leader in battery spill containment and environmental health & safety training.
Racks
Aptus is a division of EnviroGuard, which has been offering global compliance solutions since 1993. Our team of experts combines over 60 years of experience in design, fabricating, and manufacturing across multiple industries including standby power. We offer a full line of products for the standby power industry that focuses on major telecom, utility and data center end-user requirements during the design process.
Spill Containment
Fire regulations and countless other laws require spill containment for stationary lead acid battery systems typically used as standby sources of power for those industries where a continuous flow of electrical power is required. The EnviroGuard system uses durable designs built from quality materials and a proprietary non-gassing pillow system to quickly absorb and neutralize electrolyte in a manner that allows proper disposal.
Protect the environment from leaking batteries with our high quality spill containment systems. Battery spill containment includes compliance and safety products and services to ensure compliance within standby power battery rooms, telecom battery systems, solar power battery applications, motive power, and automotive applications.